For those of you that don't already have a copy, this is great opportunity to get a discount on U.S. Air Force Tactical Missiles, written by TAC Missileers George Mindling and Bob Bolton.
Be sure to act fast. The discount is available only through August 15th.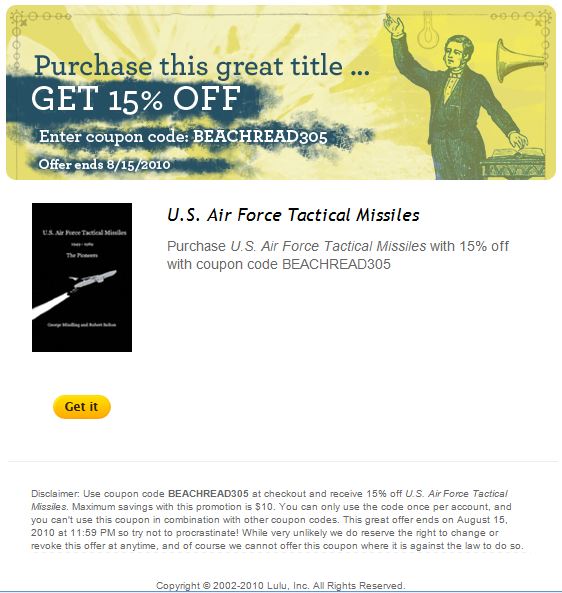 "U.S. Air Force Tactical Missiles" is an excellent, comprehensive history of a very little-known aspect of the development and operational deployment of American guided missiles in the early days of the Cold War. The title may lead one to believe that the book is a fairly broad outline of tactical missiles developed during that period. But it really covers just one system–the Glenn L. Martin Company's TM-61 "Matador" turbojet-powered cruise missile and its follow-on, the upgraded TM-76 "Mace."
The level of detail in U.S. Air Force Tactical Missiles is remarkable. The authors start out with an assessment of the world's first practical,… More >mass-produced cruise missile–the German V-1 ("Vergeltungswaffe Eins," or "Vengeance Weapon 1") "flying bomb" that Hitler used against England and other European targets in World War II. I thought I knew a lot about the V-1, but I learned things I never knew when I read this book. Some of the technical details about its design, construction and method of operation have never, to my knowledge, appeared in print before, at least not in readily accessible form. The authors apply the same level of detail to the story of the design, development, flight testing and overseas deployment of the "Matador" and "Mace," which trace their lineage directly back to the V-1. Much of "U.S. Air Force Tactical Missiles" is based on reminiscences of former "missileers" with first-hand experience in the care and feeding of "Matadors" and "Maces" in the field. As such, it has the flavor of an "oral history" in which people and their experiences play at least as important a role as the technology.
Very little has been written about America's early cruise missiles. As far as I know, U.S. Air Force Tactical Missiles is the only available book-length treatment of this relatively obscure subject. An interesting, in-depth and readable volume, U.S. Air Force Tactical Missiles deserves a place on the bookshelf of every serious aerospace history buff.
Terry Sunday From Amazon Review