January 25, 2012
Dave Maas
Hahn AB – 586th TMS (1964/66)
I am prompted to submit this article on the reactivation of the 38th Tac Missile Wing after realizing few of our Tac Missileers are aware that their old unit did live on to see another Tactical Missile at Hahn. I will begin with a little background.
I was assigned to the 38th Tac Missile Wing at Hahn AB Germany in June 1964 and served until it was deactivated in the fall of 1966. Nineteen years later, on April 16, 1985, I attended the reactivation of the 38th TMW at Hahn AB.
In 1984, I was assigned to The Ground Launched Cruise Missile (GLCM) Special Plans (XPG) Headquarters USAFE, Ramstein AB , Germany. Our job was to plan and coordinate the construction and activation of 6 GLCM bases in NATO. When I arrived at Ramstein no one knew the exact location of the proposed German base which was to be known as "Wueschheim". When it was learned that I had been stationed at Hahn during the MACE years, I was asked to go up to Hahn by helicopter, accompanied by a photographer, to identify and photograph the proposed GLCM base location. The only information I was given is the area was originally a MACE site, and it was situated adjacent to an Army Nike site. This was confusing because if the GLCM base was to be named Wueschheim, it should be near the village of Wueschheim which was near the old MACE site IV. MACE Site VI was next to the Army Nike site, but the village there was Hundheim? Until this day I don't not know why Wuescheim was chosen as the GLCM Site name?
We flew to Hahn and I asked the Chopper pilot to fly over the base then out over the back gate and follow highway 327 (Hunsrueckhollenstrasse) toward Koblenz. I was concerned that after all those years, MACE site VI would be grown over with vegetation and be difficult to recognize, but to my surprise the site stood out, shelters and all, just as we had left it 18 years before.
At the time the 38th TAC Missile wing was to be reactivated, I was assisting the German Basing Manager Major Oldenburg who was responsible for Wueschheim. Msgt Duane Wiess from the GLCM Logistics Group was assisting us. Duane was my classmate during MACE training at Denver and Orlando in 1963/64 and was also assigned to the 586th MMS, 38th TMW at Hahn from 1964 to 1966. Because of our prior 38th TMW association, we were ask to attend the 38th TMW activation ceremony.
The 38th Tactical Missile Wing, equipped with ground-launched cruise missiles to counter Soviet intermediate-range ballistic missiles, went operational in 1986. The Intermediate-Range Nuclear Forces Treaty with the Soviet Union which went into force on 1 Jun 1988 led to inactivation of the wing on 22 Aug 1990.
Dave Maas
---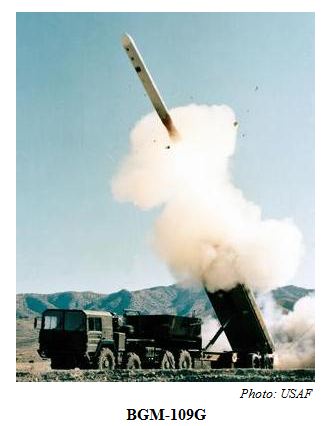 Imformation about the BGM-109G Ground Launched Cruise Missile (GLCM) can be found here: en.wikipedia.org/wiki/BGM-109G_Ground_Launched_Cruise_Missile