He was stationed at Orlando AFB from 1956 to 1958, and was likely a member of the 17th TMS.
On 4 March 2010 we received the following query from his daughter:
From: Rebecca Stevens
Sent: Thursday, March 04, 2010 10:14 AM
To: TAC Missileers
Subject: TAC Missileers Contact Form Submission – Looking for my Dad's service records
My dad was a tactical guidence tech on the Martin Matador form 1956-1958 at Orlando AFB.  I am trying to locate his unit number and squadron so that I can help him apply for his VA benifits.  The Dept. of national records says that all his records were destroyed in a fire in 1973 and they need this information to be able to rebuild his records.  Can you help me?  His name is Bobby F. Shamburger.
Thank you in advance for any help you might provide.
Rebecca Stevens
In subsequent communications, Rebecca advised:
My dad went to school at Lowry AFB beginning in Jan. 1955.  He was then sent to Orlando AFB and was a Guidance Tech on the Martin Matador.  He spent a lot of time TDY to a missile site which was in a little town between New Smyrna Beach and Titusville.  He used a grid system to track the Matador.  Dad's unit was deployed to Taiwan.  He stayed behind (he was too short and not reenlisting).  He was honorably discharged in August of 1958.
In Dennis Hornberger's Memories (www.tacmissileers.org/?page_id=437), I found a picture that I believe has my dad in it (… man in the back row far right).  I am almost certian that this is my dad.
Click on image to enlarge.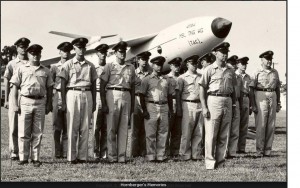 If you have any copies of Special Orders from Orlando AFB, circa 1956 to 1958, would you see if they contain Bobby Shamburger's name?  If you knew Bobby or can provide ANY inforrmation that can confirm his assignment at Orlando AFB, please send Russ Reston an email, so that he can pass the information along to Bobby Shamburger's family.
Thanks for your help!!!