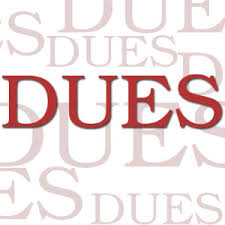 A message from Max regarding dues…
At this point we have 456 Missileers on our membership roster. Of these, I show many that have let their due's slip into arrears, some as long as 2-3 years. I realize that it is easy to forget about sending annual due's in, especially when most members pay their due's every 3 years instead of annually, which saves them $15.00 over the 3 year period.
As everyone knows or should know, the annual dues help the organization put on our reunions every other year, as well as pay for other expenses such as postal services etc.
It would be much appreciated if everyone that thinks they may be in arrears on their annual due's or have previously received a due's notice to please contact me as to their due's status. I would very much like to start out 2019 with a "clean" membership due's roster.
Member dues are $15 for a calendar year or $30 for three calendar years. This covers both the member and his spouse.
I appreciate your cooperation in keeping your dues up to date.
Please make checks payable to TAC Missileers Corporation.
Dues should be sent to:
Max Butler
41 Royal Dr.
Eustis, FL. 32726
(812) 307-0187
maxandlois05@gmail.com
Please contact me if you have any questions about membership / dues.