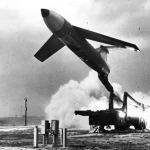 John Hilliard (Space Force Delta 45 Public Affairs Volunteer) is trying to find photos of Matadors that were launched from Cape Canaveral SFS/KSC and Vandenberg SFB. If you can be of assistance, please contact John.
---
From: John Hilliard <jrhilliardvmi60@gmail.com>
Subject: Re: Matador Photos
Date: July 30, 2022
To: TAC Missileers
For the last 10+ years, I have been attempting to obtain a photo/picture of all the Missiles/Rockets launched from the Cape Canaveral SFS/KSC and Vandenberg SFB. Everything will go to the Air Force/Space Force when I am finished. They do not have a collection like this. I am missing about 400 from the Cape and most of them are Matadors (about 250). It is hard to find Matador photos from the 1950s/1960s.  I have about 30 Matador pictures with no date or serial numbers which I cannot add to my Notebooks.
I was hoping you might send the list of missing Mace & Matador out to you group to see if anybody might have any of the pictures. I NEED the date or serial number of the Matador to cross them off my missing list.
Currently, I have 76 4-inch Notebooks on the Cape/KSC, Vandenberg and on Space & Missile programs.
Any help would be appreciated. A scan copy of the photo would be great.  I do not need a hard copy. They can email me directly at the above email.
Thanks, hope to see you all and tour you all at the next TAC reunion at the Cape.
Take care,
Space Force Delta 45 Public Affairs Volunteer
Patrick Space Force Base, FL
---
MISSING PICTURES OF MACE AND MATADOR, CAPE CANAVERAL
MACE B
         Have all of them

LC-22
         2.                    4 Dec 1959               56-2893        
MATADOR
LC-4
         1.                    6 May 1955              GM 52-1895
LC-XX
         5.                    31 Aug 1951            GM-549
         6.                    6 Sep 1951               GM-550                                             Failed
         11.                  13 Feb 1952             GM-555
         12.                  10 Mar 1952            GM-556
         13.                  20 Mar 1952            GM-558
         14.                  4 Apr 1952               GM-561
         15.                  9 Apr 1952               GM-559
         16.                  2 May 1952              GM-560
         17.                  15 May 1952           GM-563                                             Failed
         19.                  9 Jul 1952                 GM-565
         20.                  19 Jul 1952               GM-566
         21.                  10 Sep 1952             GM-568
         24.                  4 Nov 1952              GM-2353
         25.                  7 Nov 1952              GM-567
         27.                  17 Nov 1952            GM-2354
         28.                  4 Dec 1952               GM-553
         29.                  15 Dec 1952             GM-2356
         30.                  19 Dec 1952             GM-11043
         31.                  12 Jan 1953              GM-557                                             Failed
         32.                  14 Jan 1953              GM-557                                             Failed
         33.                  30 Jan 1953              GM-11050
         34.                  5 Feb 1953               GM-2357   
         35.                  17 Feb 1953             GM-11048
         36.                  4 Mar 1953              GM-2358  ????
         37.                  18 Mar 1953            GM-11062
         38.                  31 Mar 1953            GM-11045
         39.                  1 Apr 1953               GM-11044
         40.                  24 Apr 1953             GM-11049
         41.                  29 Apr 1953             GM-2369
         42.                  4 May 1953              GM-11053
         43.                  12 Jun 1953             GM-11056
         44.                  2 Jul 1953                 GM-11059
         46.                  4 Aug 1953               GM-11081
         47.                  24 Aug 1953            GM-11083
         48.                  23 Sep 1953             GM-11082
         49.                  21 Oct 1953             GM-2368
         50.                  22 Oct 1953             GM-11072
         51.                  2 Nov 1953              GM-11097
         52.                  17 Nov 1953            GM-11100
         53.                  18 Nov 1953            GM-11104
         54.                  18 Nov 1953            GM-11107
         55.                  19 Nov 1953            GM-2359
         56.                  19 Nov 1953            GM-11098
         57.                  27 Nov 1953            GM-11101
         58.                  2 Dec 1953               GM-11099
         59.                  11 Dec 1953             GM-11080
         60.                  15 Dec 1953             GM-11105
         61.                  15 Dec 1953             GM-11106
         62.                  15 Dec 1953             GM-11110
         63.                  15 Dec 1953             GM-12418
         64.                  16 Dec 1953             GM-11103
         65.                  16 Dec 1953             GM-12419
         66.                  17 Dec 1953             GM-11102
         67.                  7 Jan 1954                GM-12427
         69.                  8 Jan 1954                GM-12421
         72.                  29 Jan 1954              GM-12423
         73.                  4 Feb 1954               GM-12425
         74.                  19 Feb 1954             GM-12424
         75.                  25 Feb 1954             GM-12447
         79.                  23 Mar 1954            GM-12445
         80.                  26 Mar 1954            GM-12446
         82.                  30 Mar 1954            GM-12438
         83.                  9 Apr 1954               GM-12426
         84.                  9 Apr 1954               GM12436
         85.                  9 Apr 1954               GM-12468
         86.                  9 Apr 1954               GM-12429
         87.                  9 Apr 1954               GM-12452
         89.                  13 Apr 1954             GM-12439
         90.                  15 Apr 1954             GM12428
         91.                  23 Apr 1954             GM-12462
         92.                  23 Apr 1954             GM-12470
         93.                  23 Apr 1954             GM-12469
         94.                  23 Apr 1954             GM-12479
         95.                  27 Apr 1954             GM-12440
         96.                  30 Apr 1954             GM-12482                                        Failed
         97.                  30 Apr 1954             GM-12477
         98.                  30 Apr 1954             GM-12476
         99.                  30 Apr 1954             GM-12480                                        Failed
         100.                14 May 1954           GM-12487
         101.                14 May 1954           GM-12478
         102.                14 May 1954           GM-12481
         103.                18 May 1954           GM-12441
         104..               19 May 1954           GM-12473
         105.                19 May 1954           GM-12484
         106.                20 May 1954           GM-12458
         107.                3 Jun 1954                GM-12472                                        Failed
         108.                4 Jun 1954                GM-12471                                        Failed
         109.                4 Jun 1954                GM-12454
         110.                9 Jun 1954                GM-12431
         111.                10 Jun 1954             GM-12489
         112.                10 Jun 1954             GM-12460
         113.                18 Jun 1954             GM-52-1824
         115.                29 Jun 1954             GM-12442
         116.                30 Jun 1954             GM-12435
         117.                7 Jul 1954                 GM-11067
         118.                20 Jul 1954               GM-12459
         120.                10 Sep 1954             GM-11074
         121.                29 Sep 1954             GM-12443
         122.                20 Oct 1954             GM-12455
         123.                20 Oct 1954             GM-12456
         124.                20 Oct 1954             GM-12467
         125.                16 Dec 1954             GM-12430
         126.                14 Jan 1955              GM-12434
         127.                18 Jan 1955              GM-52-1865
         128.                18 Jan 1955              GM-52-1849
         129.                16 Feb 1955             GM-12450
         131.                24 Feb 1955             GM-12449
         132.                2 Mar 1955              GM-12449
         133.                2 Mar 1955              GM-12461
         134.                9 Mar 1955              GM-52-1889
         135.                17 Mar 1955            GM-12451
         136.                17 Mar 1955            GM-12483
         137.                1 Apr 1955               GM-52-1900
         138.                20 Apr 1955             GM-11075
         139.                21 Apr 1955             GM-53-92
         141.                29 Apr 1955             GM-Dummy #2
         141A.             6 May 1955              GM 52-1895
         142.                10 May 1955           GM-53-203
         143.                17 May 1955           GM-52-1902
         144.                19 May 1955           GM-53-98
         146.                1 Jun 1955                GM-12463
         147.                9 Jun 1955                GM-54-1
         148.                10 Jun 1955             GM-54-3
         150.                8 Jul 1955                 GM-54-5
         151.                8 Jul 1955                 GM-54-8       
         152.                18 Jul 1955               GM-54-6
         153.                18 Jul 1955               GM-54-7
         154.                22 Jul 1955               GM-54-4
         155.                29 Jul 1955               GM-54-10
         156.                29 Jul 1955               GM-54-9
         157.                1 Sep 1955               GM-11089
         158.                27 Oct 1955             GM-11051
         159.                10 Nov 1955            GM-11055
         160.                19 Jan 1956              GM-54-17
         162.                27 Jan 1956              GM-54-16
         164.                6 Feb 1956               GM-54-11
         165.                23 Mar 1956            GM-54-22
         166.                23 Mar 1956            GM-54-26
         167.                26 Mar 1956            GM-54-31
         168.                26 Mar 1956            GM-54-19
         169.                26 Mar 1956            GM-54-35
         170.                28 Mar 1956            GM-54-25
         171.                28 Mar 1956            GM-54-30
         172.                18 Mar 1956            GM-54-21
         173.                28 Mar 1956            GM-54-36
         174.                4 Apr 1956               GM-54-28
         175.                6 Apr 1956               GM-54-23
         176.                6 Apr 1956               GM-54-34
         177.                2 May 1956              GM-11065                                        Failed
         178.                29 Aug 1956            GM-55-528  
         179.                30 Aug 1956            GM-55-529
         180.                12 Sep 1956             GM-54-132
         181.                12 Sep 1956             GM-55-527                                      Failed
         182.                20 Sep 1956             GM-54-13
         183.                26 Sep 1956             GM-54-133
         184.                26 Sep 1956             GM-54-230                                      Failed
         185.                4 Oct 1956               GM-54-14
         186.                12 Oct 1956             GM-54-15
         187.                9 Nov 1956              GM-54-127
         188.                21 Nov 1956            GM-54-128
         189.                30 Nov 1956            GM-54-129
         190.                10 Apr 1957             TN 467
         191.                11 Apr 1957             TN 470
         192.                16 May 1957           TN 170
         193.                17 May 1957           TN 711
         197.                5 Sep 1957               64-32
         198.                25 Sep 1957             54-177
         199.                26 Sep 1957             54-27
         200.                1 Oct 1957               54-140
         201.                1 Oct 1957               54-38
         202.                14 Nov 1957            54-138
         204.                13 Mar 1958            54-142
         205.                13 Mar 1958            56-1963
         208.                13 Nov 1958            TNG #2
         209.                2 Dec 1958               TNG #3
         211.                4 Dec 1958               TNG #5
         212.                4 Dec 1958               TNG #6
         213.                7 Jan 1959                TNG #7
         214.                8 Jan 1959                TNG #8
         215.                25 Feb 1959             TNG #9
         216.                25 Feb 1959             TNG #10
         217.                25 Feb 1959             TNG #11
         218.                26 Feb 1959             TNG #12
         219.                22 Apr 1959             TNG #14
         220.                22 Apr 1959             TNG #13
         221.                23 Apr 1959             TNG #15
         222.                23 Apr 1959             TNG #16
         223.                10 Jun 1959             TNG #18
         224.                10 Jun 1959             TNG #17
         225.                11 Jun 1959             TNG #20
         226.                11 Jun 1959             TNG #19
         227.                25 Aug 1959            54-47
         228.                25 Aug 1959            54-46
         229.                22 Sep 1959            54-43
         230.                22 Sep 1959             54-48
         232.                27 Oct 1959             54-49
         234.                24 Nov 1959            54-44
         235.                24 Nov 1959            54-50
         236.                24 Nov 1959 54-51
         239.                13 Jan 1960              54-0055
         240.                10 Feb 1960             54-0056
         242.                13 Apr 1960             56-1925
         243.                13 Apr 1060             54-57
         244.                12 May 1960           54-62
         245.                12 May 1960           54-60
         247.                24 May 1960           54-67
         251.                9 Jun 1960                54-426
         252.                10 Jun 1960             54-124
         254.                13 Jun 1960             54-61
         255.                13 Jun 1960             56-1918
         256.                15 Jun 1960             56-1919
         257.                28 Jun 1960             56-1914
         258.                28 Jun 1960             56-1915
         259.                13 Jul 1960               54-88 
         261.                10 Aug 1960            54-0090
         263.                23 Aug 1960            54-0066
         266.                28 Sep 1960             56-1937
         267.                12 Oct 1960             56-1940
         268.                26 Oct 1960             56-1935
         269.                26 Oct 1960             56-1939
         270.                2 Nov 1960              55-0040
         271.                9 Nov 1960              56-1938
         272.                7 Dec 1960               54-0089
         274.                18 Jan 1961              56-1936
         275.                18 Jan 1961              56-1943
         276.                8 Feb 1961               56-1941
         277.                8 Mar 1961              56-1945
         278.                13 Apr 1961             56-1931
         279.                11 May 1961           56-1942
         281.                1 Jun 1961                56-1949        
         282.                1 Jun 1961                56-1948
         284.                1 Jun 1961                56-1944