We have recently learned that an MM-1 Teracruzer is still in operation. It is being used in a gold mining operation in Alaska, and is probably the last functional MM-1 in existence. Owners, Steve and Patricia Lankford, recently contacted George Mindling inquiring whether he might be interested in hearing about some of their adventures, taking the Teracruzer 100 miles into the interior of the Brooks Range, on a gold mining venture. Needless to say, George responded, "Yes!"
In subsequent communications, Steve Lankford mentioned that he would be interested in seeing the MM-1 restored, as part of our country's Cold war heritage, and put on display. The TAC Missileers officers agree and George Mindling has offered to represent the TAC Missileers organization, exploring the feasibility of making this happen. His initial step will be to contact the National Museum of the US Air Force at Wright Patterson, AFB and try to elicit their interest.
We'll keep the website updated, as more information becomes available…
Steve and Patricia Lankford, 4/S Services, Anchorage, Alaska
"Wanted to drop you a line and let you know that there is still one of these wonderful machines that is alive and well and operating in Alaska. If you are interested I would be happy to send photos and information about my 8 wheeler ATV. I am curious as to whether or not I have the only one still in existence. Hope this reaches someone and that I receive a response from you. It would be nice to share some of our adventures taking this machine 100 miles into the interior of the Brooks Range on a gold mining venture."
"I have been using the MM-1 for hauling fuel to a gold mining operation in which I utilize 5-500 gal fuel bladders inside a liner enclosure while transporting which lessens the chance of any spills. I also have adapted an auger that mounts to the bed for drilling test holes for mining exploration. The MM-1 came with a spare transfer case and semi complete front and rear boggie assys. I also have 6 extra tires in various condition (it was parked near a main highway for a while and had some holes shot in some of the tires). I also have a complete photo copy of the service manual for the MM-1."
MM-1 Teracruzer (temporarily stationed at Montana Creek, Alaska – 62° 4'43.08″N 150° 4'36.43″W)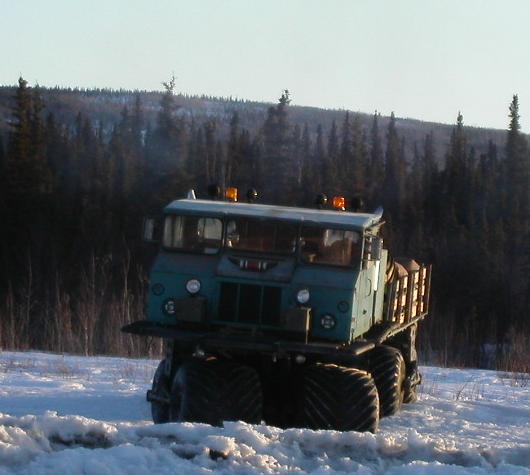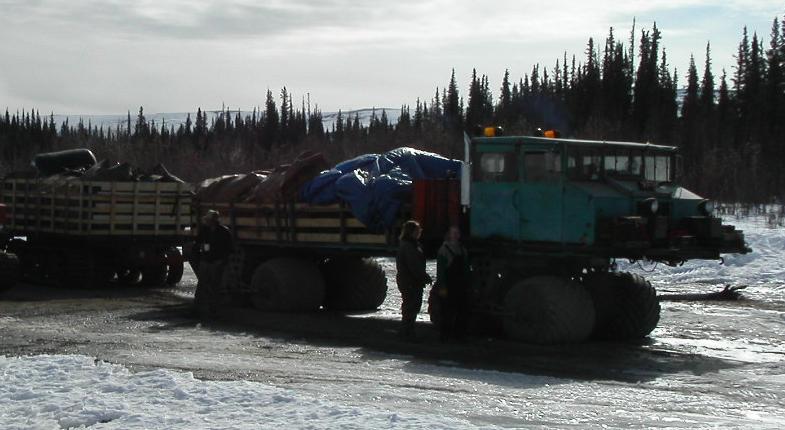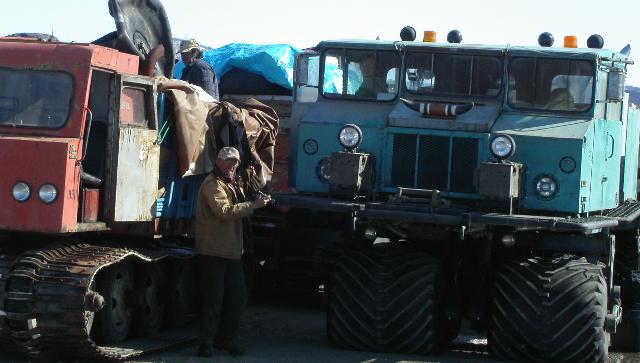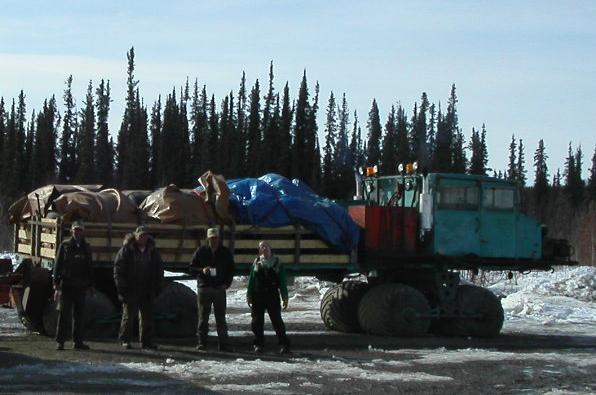 ---
From: 4/S Services – Lankfords
Date: Tue, 19 Oct 2010
From: 4/S Services-Lankfords
Subject: MM-1
To:George Mindling
Hi George,
Well it's easy for me to understand. I was a Diesel Boat sailor on some of the WWII submarines during the Viet Nam era and I'd love to have one of those boats as a yard ornament.
As to the history of this machine and how it ended up in Alaska I haven't a clue, but it may have been brought to Eielson AFB near Fairbanks for cold weather use/training… tho that's just guessing. I bought it from a friend of mine who had bought it in Fairbanks from a guy who had been using it hauling freight on the north slope for oil exploration contractors. I have no idea how he acquired it, or who he was, to try to track the original motor. He was trying to compete with Crowley Maritime and their CATCO ROLLIGONS. They were as you might well guess, much better financed than a one man operation so they just dropped their bid price and (pardon the pun) FROZE him out. He had removed the Packette engine and replaced it with a V-8 Duetz and a 740 Allison trans which I think is the same as the original. …there have been some modifications to this machine and I have no Idea where the Packette engine went… probably is long since been melted down in a foundry in China or Japan. I personally have made some adaptations to the MM-1 but the majority of these changes are totally removable for restoration purposes. I have had a feeling that this might be the last of its kind… and for a long time have wondered what I would do when the tires finish rotting away. An interesting side note that some of your members might recall, I remember as a kid seeing an article in Popular Mechanics about a terra tired machine that could run over a man and not hurt him..I think it was in 1958 and I remember seeing the MM-1 in that photo.
I have been using the MM-1 for hauling fuel to a gold mining operation in which I utilize 5-500 gal fuel bladders inside a liner enclosure while transporting which lessens the chance of any spills. I also have adapted an auger that mounts to the bed for drilling test holes for mining exploration. The MM-1 came with a spare transfer case and semi complete front and rear boggie assys. I also have 6 extra tires in various condition (it was parked near a main highway for a while and had some holes shot in some of the tires). I also have a complete photo copy of the service manual for the MM-1.
I mentioned the Catco Rolligons… another interesting tid-bit is that much of the design of them is a direct copy of the MM-1… tho the final drive system is done with wide hard rubber drive wheels that contact the actual tires which are filled with air, and individually controlled from the operators console (same as the MM-1 only the air pressure not only carries the load… it also controls drive tension on each tire. In extreme cold the drive wheels can actually 'spin out' against the air filled tires, creating an 'I'm not stuck, I just cant go anywhere' condition. (This doesn't occur with the drive system that FWD corp created for the MM-1.) www.youtube.com/watch?v=cXcuinvxsoY
Enough on that. Here are some photos of quite possibly the only MM-1 Teracruzer still in existence, alive, well and hard at work in Alaska.
---
From: Steve Lankford
Sent: November 2010
To: George Mindling
Subject:Project MM-1
George,
Just wanted to touch base and see if you got my last letter with the photos of the Teracruzer. It sounds like you fellows would be interested in acquiring this machine for your museum and that is not out of the realm of possibilities. I would love to see this in an Independence Day Parade….sort of a reminder to today's population of U. S. citizens (who float blissfully thru life thinking it has always been like this and always will be) that there really was a "cold war" and it required some rather diverse and unique strategies to ensure their freedom and longevity and the life they enjoy. This coming from a Diesel boat sailor that around 1969 at age 19 got to feel depth charges go off outside the hull to inform us we were not welcome and needed to LEAVE IMMEDIATELY… I never knew exactly where we were..but it was VERY COLD…and I heard rumors that the dc droppers likely spoke Russian.
Anyway, I'm not in a position financially to "donate" this machine at present as it serves a useful purpose in hauling fuel and supplies to my mining operation… i.e., I would need to purchase something to replace it and the mine isn't into full production yet(but the price of gold keeps me on track, lol) so I am working with limited resources. I would consider selling it to you guys for replacement value…(you couldn't afford to pay what I have invested into it…lol)…But I suspect you are just like me in that respect…limited resources…. It may be that I need to keep using it and being very careful until I get a good year out of the mine..then I could use the write-off that a donation of that size would permit. However it is a rather "fragile" machine for this kind of work and I'd prefer to see it replaced sooner rather than later.
As far as getting something this size to your museum????..I'm betting that I have some political connections that might be able to con the USAF into transporting and delivering this piece of their history and the spare parts right to your door. Hell….all they got to do is get it to the nearest airfield..and me and my wife with it…with a 9′ over width permit it is still road legal..(I have gangways that bolt to the frame on both sides of the cab). That might be the high point of my life (second only to my wife of course)…..driving this Teracruzer to its new home…talk about an attention getter..WOW!!!!! and remember…it has 4 seats in the cab…lol…care for a ride? People ask me what its like to ride in the MM-1…now this isn't very nice..tho its true…I answer:…its like making love to a "fluffy" woman on a waterbed….specially when the fuel thank is only half full…
Well..enough with the imagination voyage…
I hope I've given you some things to think about…Maybe between us we can get this old "war-horse" into a well deserved and respected retirement where more than just my wife and I can enjoy it.
Sincerely,
Steve Lankford
Senior Operating Officer
MM-1 Teracruzer (temporarily stationed @ Montana Creek, Alaska)
62° 4'43.08″N 150° 4'36.43″W are the coordinates where it is located if you'd care to Google Earth it.
---
From: George Mindling
To: Steve Lankford
Cc: Max Butler, Joe Perkins, Robert Bolton, Russ Reston, William Simpson, Julian Esposito, Fred Horky, John M. Gibbs
Sent: Wed, November 10, 2010
Subject:Re: MM-1
Steve,
Great to hear from you and get the great photos. I forwarded your e-mail and the photos to the board members of the TAC Missileers Association, the people you posted with on their guestbook, so that worked out great. We are working on getting a ground swell project to save your MM-1. There are many, many questions we will pursue if we get enough momentum with the organization, Cost, is one item, and which agency can we get interested in picking it up, among others.
We finished a project this year that we took videos of about moving a Mace missile from Florida to Indiana. The two videos are on the TAC Missileers page, the same one where the guestbook is located. Go to the TAC Missileers homepage at https://www.tacmissileers.org/, look at the pull down tab named videos, and look at the last 3 videos, starting with the Mace Scope Day. You can see who we are, and what the missile looks like that was hauled around by your MM-1.
Keep us posted, and we will do the same as we see if we can get this project cranked up.
Take care,
George
---
From: Steve Lankford
To: George Mindling
Subject: Re: MM-1
Date:Wed, 10 Nov 2010
Hi again George,
Wow, this is great news, tho it causes mixed emotions for me. It took me over 5 years to talk my friend Wally Coleman into selling this machine to me. I wanted it partially because it was so "different"…but also because of a memory I had from around 1958. I remember seeing a story in Popular Mechanics about this new all terrain vehicle that the military had begun using. The big thing about it was the terra tires and the ability to adjust the pressure in the tires for different 'tractive' effort situations and that at 2 psi they could drive over a person and not hurt them!!! This memory is 52 years old and I was only 8…so the air pressures might be wrong…but I distinctly remember the picture of the man laying on the ground on his stomach..chin in his palms..a smile on his face…and the MM-1 tire on top of him!!!! I've had a feeling for a long time that there couldn't have been very many made and therefore not many would have survived the cutting torch..so I have tried to take good care of it and any adaptations I have made are pretty much removable with wrenches. As I think I mentioned before…the engine is now an air cooled V-8 Duetz with very low hours on it that went out of production about 25 years ago and I have changed the steering to an "orbitrol" hydraulic system. Some of the parts from the original system were worn out and I did not keep them..but the majority of the OEM stuff is still here….along with 6 spare tires and wheels and semi complete front and rear bogie systems and a spare transfer case. I think all spare parts would fit on the deck and the weight would still be within Herc load limits. The Air National Guard would probably be the guys to talk to about transport and I'm betting they would LOVE to be involved in a project like this. I have to admit…I will be a bit sad to say good-by to the old girl when the time comes…we've been thru some pretty tense situations together and I will especially miss pulling up next to someone on a little Polaris or Honda "4 wheeler",looking way down at them and doing that Crocodile Dundee thing….."that's not a swamp buggie….THIS is a swamp buggie".
But the MM-1 is like a fine Swiss watch…way too many moving parts that all need to function together properly or else you are dead in the water and its not like you can run to the parts store and order the pieces to fix it. It took 3 of us over 3 weeks just to get the disc brakes freed up and functional. The Duetz is a full 4″ wider than the original motor and I had to build an insulated "house" for it in an attempt to keep from "roasting alive" when operating it….that brought the temp in the cab from about 140 deg down to about 120 if all 4 windows were rolled down…and it was cooler than -20 F outside!!! I have since added extra shrouds to the engine compartment and have mounted 12ea. 24V 300 cfm 6″ computer cooling fans to it and it now only gets to about 90 deg in the cab…whew!!! But what a fantastic experience it has been to own and operate it…everyone that sees it wants to go for a ride..and if I take them for a ride…they want to buy one for themselves… When we took it into the Brooks Range to go mining up at Wild Lake (the photos I sent) it hauled 3500 gal of Diesel or 21,000 lbs on its back and towed another 2500 gal. on a Nodwell trailer or about 20,000 gross on the trailer. We crossed the Koyukuk River 7 times on the ice and only broke thru once….I nearly suffocated on that one….we only broke thru a layer of overflow ice and only dropped about a foot or two…but my wife Patricia and step-daughter Samantha both did a BIG GASP of fright and sucked so much air out of the cab that if I hadn't had my window down there'd of been no air left for me to breathe….course I just signed my own death warrant…cause she's gonna kill me for telling that story again. Back on subject..it made the trip in to Wild Lake…100 + miles pulling and hauling all that weight…on 35 gal. of fuel and in temps down to -48 deg F. And I musn't forget the Mining camp mascot that was one of my passengers on this trip…her name was Daisy and she was a "top knot" duck…about a month or so old..she would run around the cab of the Teracruizer on top of the engine compartment…Quacking out orders and issuing disciplinary warnings to me if I went too fast..or got on too much of a side hill…or stopped too suddenly…funniest damn thing you ever saw….!!!!!
So you see I have become emotionally attached and probably need a long visit to the psych ward to get my priorities straight…haha. But I do think this is all pretty KOOL!!! and will do whatever I can from this end to help make this happen.
All for now
Sincerely,
Steve Lankford
---
From:George Mindling
To: TAC Missileers
Sent: Saturday, November 13, 2010
Cc: ACC/HO Command Historian; P Lankford
Subject: Project MM-1
Hello Everybody.
Steve Lankford of Alaska has contacted me and informed me he owns and still operates an FWD MM-1!!! I am interested in saving this MM-1, possibly the last remaining unit, certainly the last operating MM-1, and restoring it to Air Force blue and having the unit displayed in a museum as part of our Tactical Missile History.
I am laying the groundwork for the project and welcome suggestions and comments. Basically, I am conducting a feasibility study, although I have no doubts we can eventually save this unit. Issues involve funding for purchase, transportation, and restoration.
I plan on contacting at least three USAF museums, two that have a translauncher (without the MM-1) to see if official interests exists. The project is certainly involved, and perhaps costly, at least by the standards of the TAC Missileesr Association, whose support is unofficially behind the project at this time. There are other museum that may have an interest, such as the Indiana Military Museum, or others that currently have a Mace missile in their display inventory. They will be contacted if necessary.
I will keep everyone posted of results and responses, and again, please let me know if you would like to be removed from this mailing list.
Take care,
George Mindling
Port Charlotte, FL