Andy Hernandez and Jerry Purcell (Matador Launch Officer; "B" Flight Hahn; late 1950's) are looking for help in identifing people in this photo.
Can you help? If so, please send an email to Andy Hernandez.
Click on image to enlarge.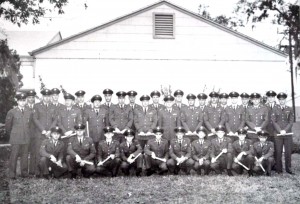 ---
April 23, 2010
Ray Isaacs and Lee Kyser both recognized this photo. It is a picture of their graduating class in Orlando – Feb. 1961.
Top row L-R — #1 Benjamin Mason, #2 Waymon Snell, #4 Robert Jutz, #5 SSgt Dave Cook, #6 Robert Bland, #7 William McDonald, #8 Glen Dildy, #9 William Fahey, #10 Clint Everett
Middle row L-R — #2 SSgt Benjamin Jenkinson, #3 Beryl Ristine, #4 Ray Isaacs, #5 Lt Harry Hurst, #6 Capt Hutchison (not certain of spelling), #7 Seldon Womack, #8 Ed Bailey, #9 Lee Kyser, #11 Kenneth Hanson
Bottom row L-R — #4 Lou Koeniger, #6 George Colbert, #7 James Cain
Thanks Ray and Lee!