Spirit of Norfolk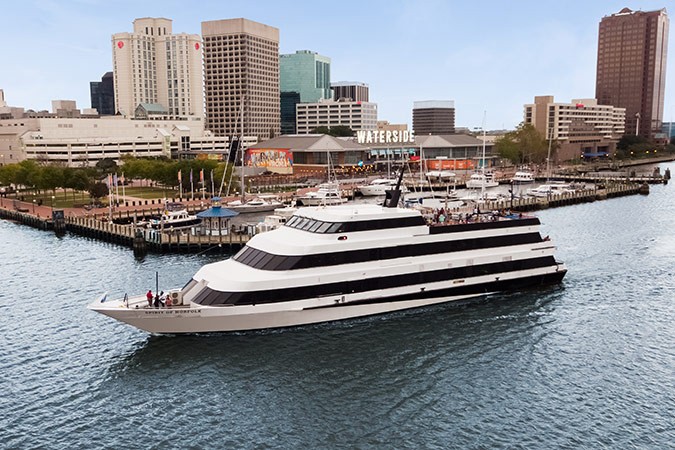 How many would be interested in going on a 2 1/2 hour dinner cruise on the Spirit of Norfolk cruise ship? We would be cruising the Elizabeth River on the way to the Norfolk Naval Harbor area where we will be able to view America's great naval ships, including aircraft carriers, destroyers and submarines, all up close and personal.
While cruising we will dine on a wonderful buffet meal consisting of oven baked Atlantic cod filet, honey & sesame chicken, as well as whole roasted pork loin… along with roasted broccoli florets, creamed corn & cheddar cheese casserole, baked ziti and mashed potatoes. Of course, a wonderful dessert buffet will also be available, if you have room!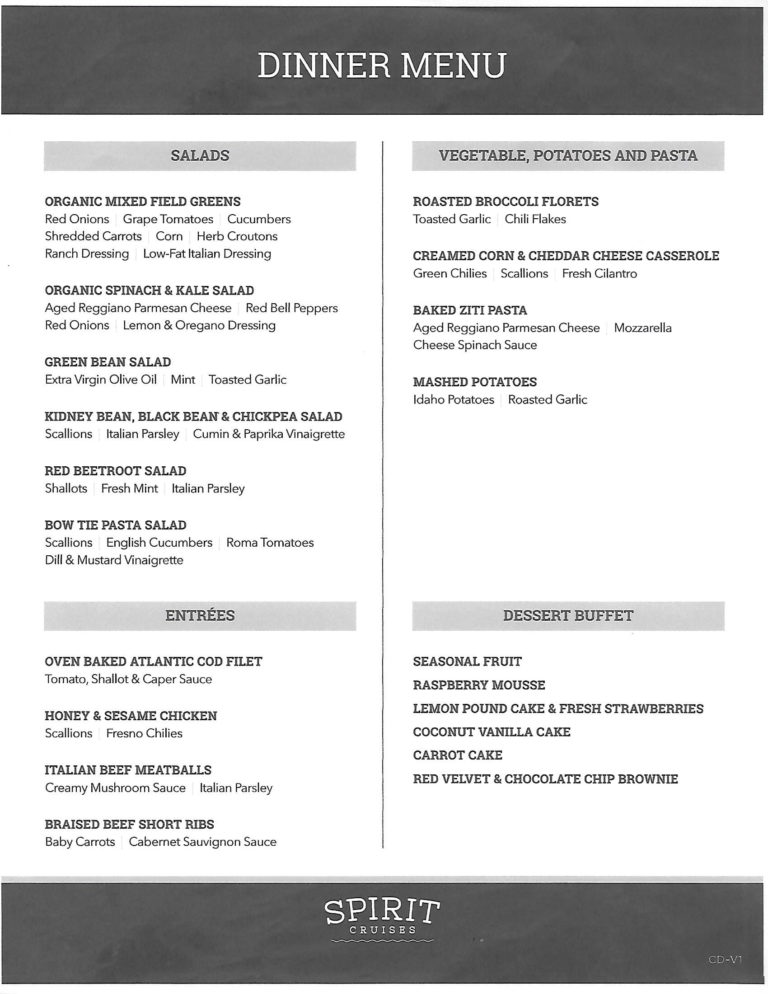 Price per person — $66.00 total (cruise & meal) $73.00 total (cruise, meal & transportation)

For those that can still "shake a leg," a dance floor will be available on each deck, with music provided.
Please complete the survey form below ASAP so that Max Butler can make the necessary plans.
---
Reminder – The 2019 TAC Missileers Reunion has been moved from New Orleans, Louisiana to Newport News, Virgina. See here for more info.
---
Survey Results
Name

Submitted

Dinner Cruise?

Spouse / Guest?

Comments

Allen Doeringer

08-10-2018

Yes

Yes

We're in

Art Donahue

08-12-2018

Yes

Yes

Bill Rinker

10-27-2018

Yes

Yes

Looking forward to the reunion and cruise!

Bill Simpson

08-23-2018

Yes

Unsure

Bill Spitzer

08-10-2018

Yes

Yes

Charles

08-10-2018

Yes

Yes

Sounds great. We will participate.

charles girolamo

08-16-2018

Yes

Yes

DANNY DAIL

09-15-2018

Yes

Yes

Dave Dennis

03-18-2019

Yes

Yes

Dave Maas

08-16-2018

Yes

Yes

David Lewis

08-12-2018

Yes

No

Sounds like a good evening.

Duane Robinson

08-20-2018

Yes

Yes

Sounds good

Ed and Rita Johnson

03-16-2019

Yes

Unsure

Rita giving it some thought.

Edward T Nangle, Jr

09-15-2018

Yes

No

Look forward to my first reunion

Elliott Eisman

08-11-2018

Yes

Yes

Felix (Phil) Wylezik

08-13-2018

Yes

Yes

!
sounds like a fun side trip

Frank Roales

08-10-2018

Yes

Yes

Sounds good Max

fred & peggy paine

11-03-2018

Yes

Yes

Gary Colsch

08-10-2018

Yes

No

This is probably a good idea. I thoroughly enjoyed the boat tour of San Diego and Hampton Roads has just as much to see. Since there is food is other than rubber chicken, the price is not unreasonable.

George Demko

08-10-2018

Yes

Yes

Great Idea

George Glaush

08-10-2018

Yes

Yes

Sounds great.

Guy Vanderman

08-13-2018

Yes

Yes

I already sent you an email response, but just in case I'll fill out this form also.

Hank & Donna Barlow

08-22-2018

Yes

Yes

Great Idea

James Dutcher

08-10-2018

Yes

Unsure

James Garner

07-08-2019

Unsure

No

Jerry Brenner

08-10-2018

Yes

Yes

A great idea and would be a nice cruise. Great choice at a great price.

Jerry M Yoder

05-26-2019

Yes

Yes

Jim Cagle

08-12-2018

Yes

Yes

Looks very interesting and a lot of fun!

Joe and Lupe Rea

01-22-2019

Yes

Yes

John ( Jack ) Chyle

09-13-2018

Yes

Yes

We are delighted to do this cruise Please put us down for
two people as follows

John ( Jack ) & Renee Chyle

John E. Fisher

11-29-2018

Yes

Yes

Don't know if I had done this earlier so here it is, again!

Ken Roberts

12-17-2018

Yes

Yes

Kenneth Corl

08-19-2018

Yes

Yes

Sounds great!

Larry Johnston

08-10-2018

Yes

Yes

So excited to do this. Thanks for making this a possibility

Larry Roffelsen

07-01-2019

Yes

Yes

Larry W Shipley

08-18-2018

Yes

Yes

Marc Hagan

09-25-2018

Yes

Yes

Marion J. Cashiola

09-15-2018

Yes

Yes

Michael & Carolyn Wilczynski

08-17-2018

Yes

Yes

Norm Trudell

08-11-2018

Unsure

Unsure

Probably will change to Yes but unaccompanied

Norman Tramba

08-10-2018

Yes

Yes

Randall B Vaughn

08-10-2018

Yes

Yes

That would be a great activity and meal .Count us in .

Randy Doi

08-10-2018

Yes

Yes

Ray Chesney

10-31-2018

No

Unsure

Raymond Pillitteri

08-10-2018

Yes

Yes

Richard Gross

06-19-2019

Unsure

Yes

Need to have a complete schedule of all activities during the convention.

Richard Johnson

08-10-2018

Yes

Yes

This is a very reasonable price. Paid much more in New Orleans for a dinner/cruise back in 2002. Will go for sure.

Robert Bolton

08-10-2018

Yes

Yes

Robert Garside

10-25-2018

Yes

Unsure

sounds like good reunion spot.

Roger D Jones

04-07-2019

Yes

Yes

Russ Reston

08-09-2018

Yes

No

Ted Ebbinga

08-20-2018

Yes

Yes

So glad you left NO behind...we would have come but not too enthused. Looking forward to Virginia 2019!!!

Thomas & Phyllis Conrad

08-10-2018

Yes

Yes

Sounds like a good idea.

Tom Richmond

08-10-2018

Yes

Yes

Tony Valovich

05-05-2019

Yes

Yes

William Allen

09-10-2018

Yes

Yes