---
TAC Missileers Reunion
Nashville, TN
Sept. 20 – 23, 2022
Reunion Attendees: Please send your completed registration form, along with a check for the applicable amount, to Max Butler as soon as possible. While your form and money must be received by Max no later than August 1st, 2022, sending this to Max sooner will help him significantly with with the Reunion planning activities. Thanks for your cooperation! We are looking forward to seeing you at the reunion!!!
ps – Don't forget to also make your hotel reservations. (Click here for hotel info.)
---
From: Max Butler <maxandlois05@gmail.com>
Subject: Reunion Registrations
Date: April 26, 2022
To: Russ Reston
Russ, could you possibly put something on our website regarding the membership that are planning on attending the reunion to please get the registration forms sent in. I've only received 8 forms to date. I of course don't want to have to play "catch-up" at the last minute when everyone sends their forms in. There is a lot of paperwork to keep track of especially as we get closer to reunion dates. Of course we have to plan for the various venues which takes time also. Getting the registration forms sent in ASAP would be a big plus so we can get the different venues in place, or not.
If anyone has a problem downloading the registration form, let me know and I'll mail them one.
Max
---
Reunion Registration Form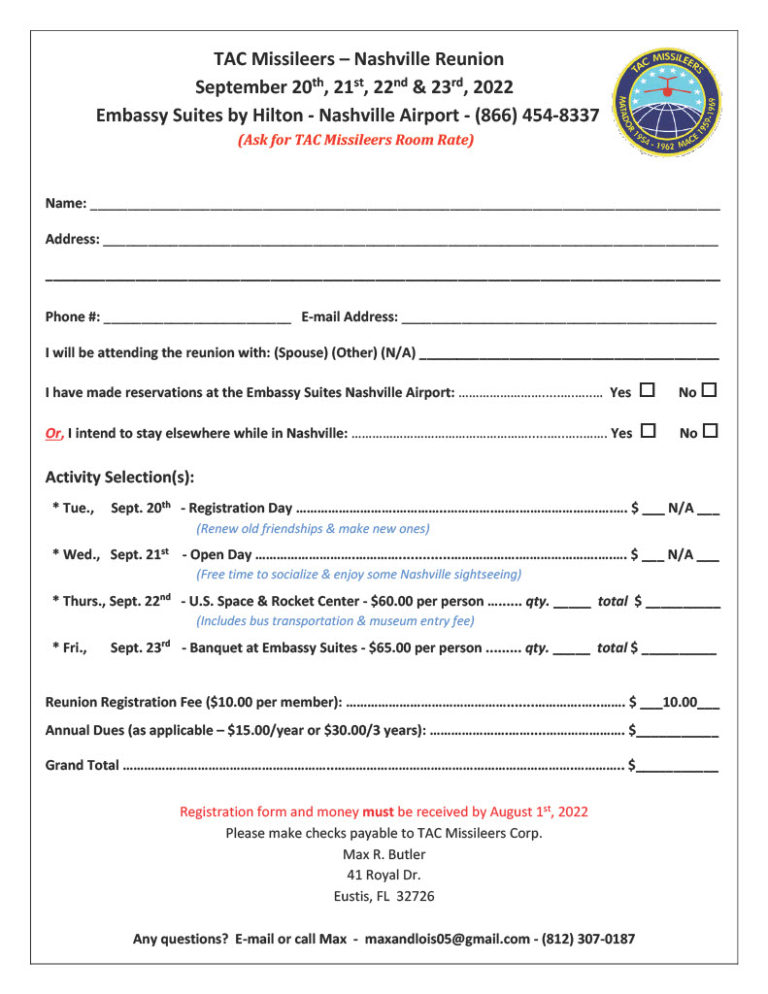 ---
Hotel Reservation Info:
Embassy Suites by Hilton – Nashville Airport
10 Century Blvd
Nashville, TN 37214
Telephone: 615-871-0033
September 20th, 21st, 22nd & 23rd, 2022
Call Embassy Suites Reservations (615-871-0033) and ask for the TAC Missileers room rate – $179 / night, plus tax (~ $206.50 / night, after tax).
FYI – If you wish to reserve extra Reunion dates (other than September 20th, 21st, 22nd or 23rd), Email Jennifer Gallatin (Jennifer.gallatin2@hilton.com) and ask her to make the reservation, otherwise you will not receive the discounted reunion rate. Max