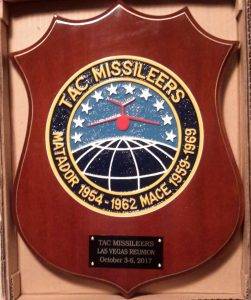 From: Max Butler <maxandlois05@gmail.com>
Subject: TAC Missileers Plaque
Date: April 30, 2017
We have a limited number of TacMissileer plaque's for sale . They are 11×14 and have a brass plate at the bottom that reads Las Vegas Reunion 2017. They are available for $45.00 plus shipping. Assuming we don't sell them all before the reunion, we will have them available there also. If anyone would like to reserve one and get it at the reunion to save shipping costs, let me know.
Max
---
Note: Do not reply to this news item.  Please send your response directly to Max at maxandlois05@gmail.com.