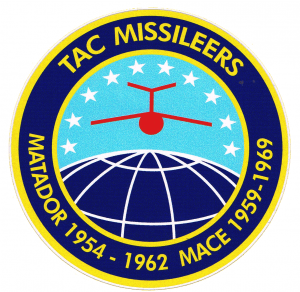 From: Max Butler <maxandlois05@gmail.com>
Subject: Tee Shirts
Date: May 2, 2017
Okay Everyone,
Here is the skinny on the shirts. After spending a couple of hours with my shirt vendor today, I think I have come up with a plan that will work for all of us.
As we can't seem to come up with enough shirts of anyone lettering combination to produce 12 of each I have decided to have the 3″ TAC Missileers patch silk screened on the upper left side of the front of the shirt. Below the patch will be the missile badge insignia. Note: with the missile insignia here there can be no pocket.
On the back of the shirt will be the 10″ TAC Missileers patch. Below the patch will be lettering of all the bases and countries that we all were associated with.
For example:
HAHN———————GERMANY
BITBURG—————-GERMANY
SEMBACH—————GERMANY
KADENA——————OKINAWA
OSAN———————-
You get the idea. This way we get away from having to have 12 of each letter combinations and everyone is represented. Your thoughts please.
Max Butler <maxandlois05@gmail.com>
---
Note: Please do not reply to this news item.  Please send your response directly to Max at maxandlois05@gmail.com.