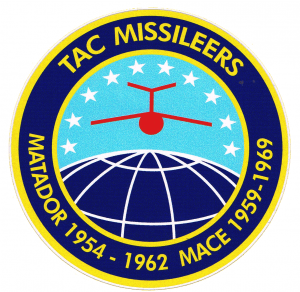 From: Max Butler <maxandlois05@gmail.com>
Subject: TAC Missileers T-Shirts
Date: April 30, 2017 
Hello Everyone,
Thought I should touch base with you regarding ordering tee shirts.
As we need a minimum of 12 shirts with the same lettering combinations to be able to go into production, at this point we have not reached that point.
At present 19 shirts have been ordered, all with the TAC Missileers 3″ patch on the front over the left pocket, and the 10″ patch on the back. But only 8 of these shirts have "Hahn" over the patch and Germany under the patch. Also have 8 shirts ordered with Kadena over the patch and Okinawa under the patch.
My suggestion is to order the shirts with just the 3″ TAC Missileers patch on the front and the 10″ patch on the back without the lettering over and under the patch. This way the shirts are all the same and can be printed from an initial set-up.
Also shirts with a collar could also be printed in the same way as there seems to be interest in this type of shirt. I for one like this also. I can also have additional shirts made to take to the reunion for those that may be interested.
Please let me know your thoughts regarding this suggestion.