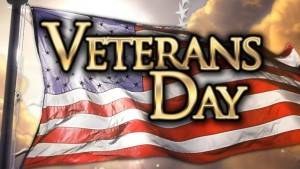 Many companies and restaurants will be offering discounts and deals to veterans and active-duty military personnel on Veteran's Day (November 11th).  Here's a partial list and a link where you can find more info.
http://militarybenefits.info/veterans-day-discounts-sales-deals-free-meals/
---
2016 Veterans Day Free Meals, Discounts, Sales and Deals
Publix
As a small way to show our gratitude for your service, veterans, military personnel, and their families are invited to save 10% on groceries on November 11, 2016.  This offer excludes prescriptions, alcohol, tobacco, gift cards, lottery tickets, postage stamps, and money services. Customer is responsible for all applicable taxes.  ase present one of the following at purchase: Veteran ID card, military ID card, discharge document, or a driver's license with veteran designation.
Black Angus Steakhouse
On Veterans Day, all veterans and active duty personnel will receive a free Top Sirloin Steak Dinner, with home-style mashed potatoes,fresh broccoli with garlic butter and sweet molasses bread. Offer is good Veterans Day November 11th 2016.
Bob Evans
Bob Evans Restaurants are offering free select menu items to Veterans and Active Duty Military on Veterans Day, Friday Nov. 11, 2016.  In addition to the meal, Bob Evans will offer a 10% discount from November 12 – December 31 for both dine-in and carryout meals.
Centraarchy Restaurants
CentraArchy Restaurants are showing their gratitude by honoring veterans and active duty military service members with a FREE entrée and 25% off entrée(s) to their accompanied family on Veterans Day. Includes California Dreaming, New York Prime, Chophouse '47, The Tavern at Phipps, Carolina Roadhouse, Joey D's Oak Room, Burro Loco, Gulfstream Cafe, Chophouse New Orleans.
Charlie Brown's Steakhouse
Veterans and active-duty military eat lunch for free on Veterans Day from 11:00 am to 3:00 pm.
Chevys Fresh Mex
On Veterans Day, Chevys Fresh Mex will offer a complimentary menu item to all active and retired military personnel. Special Veterans Day menu includes fajitas, burritos, tacos and more.
To thank service members past and present, on Veteran's Day on Nov. 11, Chuck E. Cheese's will be offering one free personal pizza to all active and retired military members at participating stores nationwide.
Golden Corral
On Monday, November 14th, 2016 from 5 PM to 9 PM, Golden Corral offers a free sit-in "thank you" dinner for Military veterans, retirees, and active duty members.
Hickory Tavern
50% off of all food and non-alcoholic drinks for Veterans and Active Duty Military on Veterans day 11/11/16. This offer includes Hickory Tavern's 24 locations in 13 communities in the southeast and a certificate for 20% off of your next meal.
Hurricane Grill & Wings
All veterans and active duty military receive a free entrée and non-alcoholic beverage from our special Veterans Day menu. Choose from wings, burgers and more.
McCormick and Schmick's Free Entree
Veterans and Gold Star Families can enjoy a complimentary meal at McCormick and Schmick's on Sunday, November 6th, 2016. Bloody Mary's or Mimosas will be available for $3.
Mimi's Cafe
Veterans and Military receive a free entree with the purchase of any non-alcoholic drink at Mimi's Cafe on Veteran's Day, 11/11/16. Entrees on the Veteran's Day menu include Grilled Chicken & Frites, Chicken Chop salad, Brioche Cheeseburger, or Farmhouse Tacos.
Mission BBQ
Veterans and active duty will receive a FREE sandwich and cake (while supplies lasts) on Veterans Day, 11/11/2016.
O'Charley's
O'Charley's will honor our military on Veterans Day 2016 by offering veterans and active duty service members a free meal at any location on November 11th. Additionally, O'Charley's offers a 10 percent military discount all year long.
Rib Crib
Veterans and active military service members can choose a free meal from RibCrib's Menu of Honor that includes a choice of two meats and two sides, including their slow-smoked meats and award-winning St. Louis spare ribs.
Shoney's Offers Free All-American Burger
Shoney's says 'Thank You' to America's heroes by offering a Shoney's All-American Burger to all Veterans and Active Duty Military members on Veterans Day.
Twin Peaks
All Military men and women (past and present) enjoy a free menu item from their Annual Veterans Day Appreciation Menu. Present valid military ID to receive offer.
Wienerschnitzel
On Veterans Day, 11/14/16, Wienerschnitzel offers a free Chili Dog with a small fry and a 20-ounce drink to Veterans and Active Duty Servicemembers. Bring your military ID or dress in a uniform.
Yard House
Veterans and active duty military will receive a complimentary appetizer on November 11, 2016 with valid military ID. Offer is valid for dine in only.
---
Check here for more information –> http://militarybenefits.info/veterans-day-discounts-sales-deals-free-meals/#ixzz4OHhpv7rP