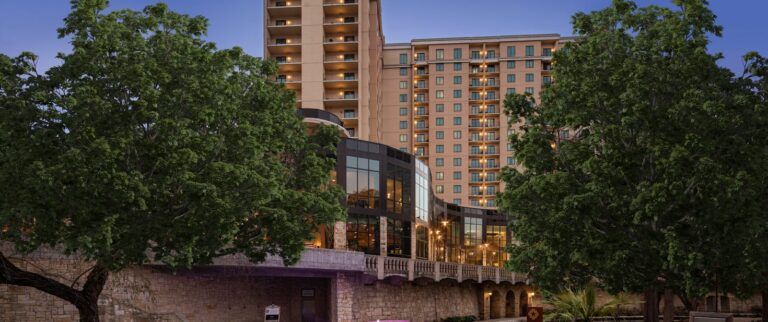 When: Tuesday, May 16th through Thursday, May 18th (3 nights; hotel checkout on Friday, May 19th, 2023)
Where: Embassy Suites by Hilton – San Antonio Riverwalk Downtown
Based on member interest expressed for a 2023 TAC Missileers "Farewell Reunion" in San Antonio, Texas, the TAC Missileers officers have been hard at work making preparations. As this is most likely our last "formal" Reunion (we are all getting older 🙁), we hope as many members as possible will attend. Let"s make it a memorable "Farewell Reunion"!!!
The Embassy Suites has been chosen in lieu of the Hyatt Regency (the 2013 Reunion hotel) based on availability and room price. Additionally, the Embassy Suites includes a hot breakfast and evening reception in their room price. We've contracted with the hotel for a limited number of rooms, so… to insure that you are able to reserve your room at the TAC Missileers rate ($169 +tax / night), we highly recommend that you make your hotel reservation at your earliest convenience (i.e., NOW vs. later). The TAC Missileers room rate will not be available after our contracted room amount has been reached. There is no charge to make your reservation now, and if necessary, it can be canceled without penalty anytime before May 5th, 2023.
To make your hotel reservations:
For reservations via telephone, call 800-362-2779 and reference group booking code (TMC) in order to receive the group rate – May 16th, 17th and 18th, 2023.
Or book online with the group rate by following this link: https://www.hilton.com/en/book/reservation/deeplink/?ctyhocn=SATESES&groupCode=CESTMC&arrivaldate=2023-05-16&departuredate=2023-05-19&flexibleDates=true&cid=OM,WW,HILTONLINK,EN,DirectLink&fromId=HILTONLINKDIRECT
If you have any problems making your reservation, send Russ an Email and he'll try to help.
We look forward to seeing as many TAC Missileers as possible at our "Farewell Reunion".
Check out this link for hotel photos:

FYI – Like all San Antonio downtown hotels, Embassy Suites parking is expensive – It's valet only; $39 / night (includes in / out privileges).
There currently is no airport shuttle service offered at the San Antonio Airport. Taxi service, Lyft and Uber are available. Taxi service from the airport to the hotel is approximately $30 to $35. Lyft and Uber are approximately $25 to $30. It is an 8 to 10 minute ride.
Must be received no later than April 1st, 2023
---
See this link for the latest reunion update:
>>> 2023 Reunion – Status Update